Start with A Demo!
Over the past several years there has been a push to using containers to support development and production efforts. There are many benefits to doing this, but a challenge exists in managing those containers in a production environment. Multiple solutions have emerged to support the management and orchestration of containers. Kubernetes is the current leader in these tools. But it is challenging to install, configure and manage.

AKS Enterprise Accelerator

To address this, InCycle has developed a packaged solution to accelerate adoption of containers strategy by operationalizing Kubernetes with AKS. The AKS Enterprise Accelerator provides key components required for a successful container strategy implementation. Every component is designed to accelerate adoption, standardization and governance. The packaged service eases infrastructure maintenance through automation, empowers teams via self-service, and streamlines implementation through state-of-the-art guidance.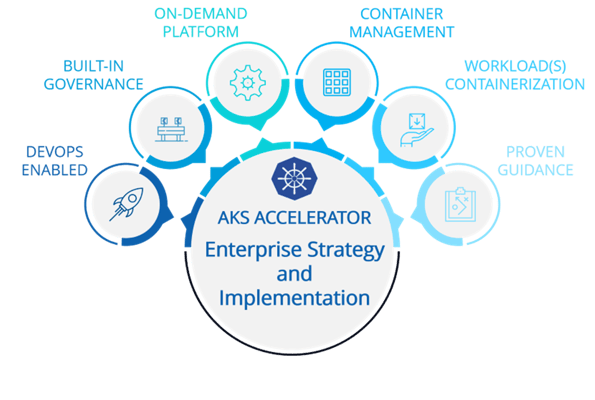 Agenda & Duration? Below is a typical demo agenda. Note, we are happy to collaborate to define a scope that delivers the best value for you and your team. Sessions are usually 60-90 minutes and are delivered remotely (online) by our senior cloud architects.

Who should attend this session? This is a high level (and somewhat technical view) of the AKS Enterprise Accelerator --- but not a full demo or deep dive --- that would take too long! Participants should familiar with the concept of containers and Kubernetes.

Executives/managers - ideal to better understand the challenge, opportunity and Accelerator solution
Operations - to understand the processes involved in deploying/managing the AKS Accelerator
Architects/Developers - the big picture of the infrastructure they can expect to deploy applications
Sign-up today!