Accelerate AKS Adoption:
5 Must Haves
Webinar: Wednesday, Sept 30th @ 2:00 PM EST

InCycle has developed a unique and packaged solution to accelerate adoption of a container strategy by operationalizing Kubernetes. The AKS Enterprise Accelerator provides all the key components required for a successful container strategy implementation. Every component is designed to accelerate adoption, standardization and governance. More specifically, it is designed to:

Balance speed and governance while empowering your team

Deliver services faster with comprehensive DevOps practices

Manage resources effectively with automation

Accelerate the feedback loop with consistent monitoring
Overview & Key Topics: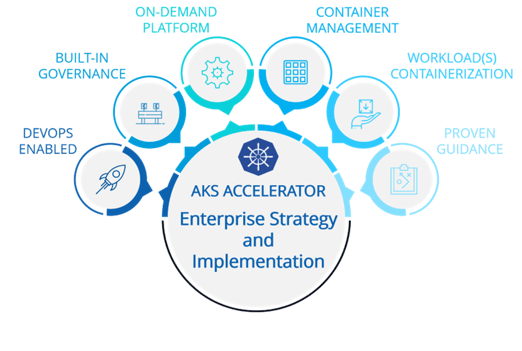 Agenda & Duration? Below is a typical demo agenda. Webinars are 45-60 minutes and
are delivered by our senior cloud architects.
Who should attend this session? This is a high level (and somewhat technical view) of the AKS Enterprise Accelerator --- but not a full demo or deep dive --- that would take too long! Participants should familiar with the concept of containers and Kubernetes.

Executives/managers - ideal to better understand the challenge, opportunity and Accelerator solution
Operations - to understand the processes involved in deploying/managing AKS
Architects/Developers - the big picture of the infrastructure they can expect to deploy applications
Sign-up today!