Accelerate Container Adoption with AKS
As application development increasing moves towards a container-based approach, the need for an enterprise-grade solution quickly becomes critical to sustain adoption and strategy execution. To help companies accelerate containerization, properly scale and manage the technology, InCycle uniquely developed a packaged AKS offering --- complete with everything you need for a fast, yet contextual, enterprise roll-out.
AKS Enterprise Accelerator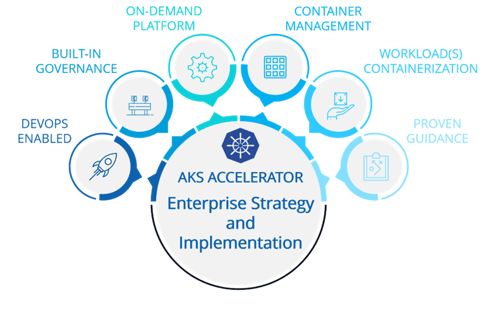 InCycle's AKS accelerator is a turnkey solution designed to unblock and accelerate the implementation of a production-ready container strategy with AKS, It enables the conception, automation and implementation of an enterprise-grade container strategy. Customers save months of trial and error and costly false starts. Instead, they implement a complete solution empowering teams to take advantage of a advanced and proven container strategies and management practices.
SAVE MONTHS - Using a container is easy. Developing and implementing an enterprise container strategy is complex and difficult. Save time, effort and money by implementing a production-ready solution.
END-TO-END SOLUTION - Bringing an enterprise-grade solution is more than deploying an AKS cluster. You need proven, robust practices and built-in governance to realize a reliable, scalable and easy to manage Kubernetes experience.

EMPOWER TEAMS - Automation is key to standardization and predictability —- empowering your teams to take complete advantage of a containerized infrastructure.


ADAPTABLE - A proven and adaptable plan is paramount for a contextual and smooth implementation. Our expert consultants tailor strategies to meet your specific goals.
GET STARTED!
Request more info and receive a PDF overview and free consultation. Start accelerating your AKS container strategy today!