Windows Server Migration to Azure
Azure is the best destination for Windows Server. Our team of senior Azure consultants will help you take advantage of more than 200 Azure services designed to improve efficiencies for Windows Server workloads and applications. By taking advantage of new features, you accelerate the modernization of your infrastructure.
Migration Accelerator Phases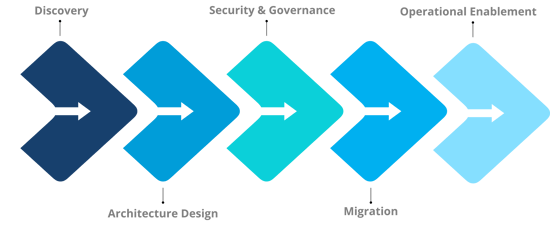 InCycle supports the migration of applications to Windows Server 2012/2012 R2/2016/2019/2022 and/or to Microsoft Azure. InCycle's' packaged accelerator not only saves time and money, but also ensures companies can move forward with confidence and — peace of mind.
Run your mission-critical workloads on a trusted cloud.
Reduce costs by taking advantage of unique offers available only on Azure.
Help protect workloads with unmatched security.
Extend on-premises environments to Azure with seamless hybrid capabilities.
Gain knowledge and insight on the best use of Azure based on business goals and requirements.

GET STARTED!
Request more info and receive a PDF overview and free consultation. Start accelerating your cloud strategy today!