Real-time, Hyper Scale Telemetry for Success
Ensure a quality streaming customer experience by gaining operational visibility into the real-time delivery of content. This comprehensive, consultant-led, turnkey solution enables the implementation of an enterprise-grade telemetry system using Microsoft Azure Data Explorer (ADX). Avoid costly events, and save months of trial and error by taking advantage of a purpose built telemetry solution based on digital technologies that are revolutionizing the industry.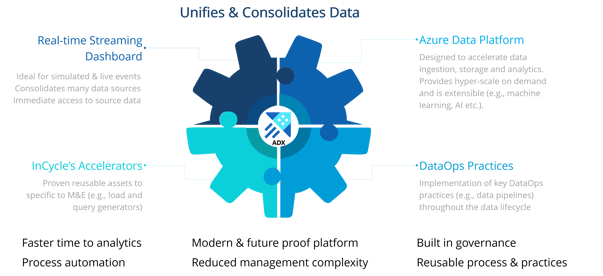 Avoid costly learnings, trial and error, and take advantage of an advanced and proven telemetry strategy.
SAVE TIME & REDUCE RISK - Reap immediate benefits of reduced time to production. By leveraging a packaged solution, you save valuable time and reduce risk by implementing a modern and proven telemetry.


COMPREHENSIVE SOLUTION - Conceived for deliver a holistic enterprise-grade solution, the Accelerator combines modern cloud services, implementation services and advanced DevOps/DataOps practices allowing you to focus on video consumption experience rather than technology and infrastructure.


EMPOWER YOUR TEAMS - With access to "single pane of glass," designed and optimized to ingest (potentially terabytes of data in minutes), your team will gain consolidated, unprecedented telemetry, and real-time insights empowering them to immediately respond to simulated, live and dynamic events.
GET STARTED!
Request more info and receive a PDF overview and free consultation. Start accelerating your telemetry strategy today!